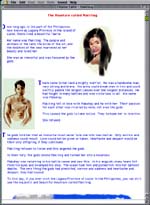 Description
This is a SimpleText document, containing a color, fully illustrated "remembered folklore" from the Philippines. This tale is of the legend of the lovers Makiling and Mabuhay and how they challenged the gods.
Requirements
SimpleText
Author
Romeo A. Esparrago, Jr.
Status
Unknown, but the author would like to hear from you if you know more details of the fable, or if you remember others.