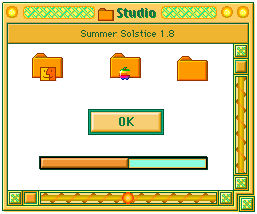 Description
Summer Solstice: the longest day of the year, the first day of Summer, the day when the Earth's movement puts the Sun at its most distant position above the Equator. But for true lovers of Summer, and that definitely includes me, it is a two-edged sword, because the Summer Solstice slso marks the beginning of the inexorable slide into winter; the Sun, after a brief rest at the apogee, heads south; days start getting shorter; worshippers of Ra begin the all-too-brief countdown to... the Dead Season.

However, this color scheme does not reflect the downside of the solstice, rather it is a brave attempt to ignore it. In a supreme act of sublimation, I have chosen to put aside my native pessimism and fill my -- and your -- computer screen with the light and color of the warmest, brightest, and, yes, best season of the year. (You have to make allowances for the fact I live in Northern California, Mark Twain's remark that the coldest winter he ever spent was a summer in San Francisco, notwithstanding.)

The Summer Solstice 1.8 package includes the color scheme and a folder of desktop patterns. After installing Kaleidoscope in your Control Panels folder, simply drop Summer Solstice 1.8 in the Kaleidoscope Color Schemes folder which goes in your Extensions folder. Then open the Kaleidoscope control panel and select Summer Solstice. To install the desktop patterns: OS7.x users, open your Desktop Patterns control panel and drop the patterns on the open Desktop Patterns window and select the one you want; OS8 users, open the Desktop Pictures control panel, choose "Patterns", and drag the new patterns onto the Patterns window and release (if you've been using a "Desktop Picture", you must first press "Remove Picture", then press "Patterns"). Now choose your new desktop pattern and close the panel.
Requirements
Kaleidoscope 1.5 or later. As the name suggests, the 1.8 version of Summer Solstice has ben optimized for use with MacOS8, although it will work fine with all 7.x systems, too. And though it should be functional at all color depths, please note that it will look best on computers capable of 1000s of colors or more.
Author
Scott Hunter
Status
Summer Solstice 1.8 is e-mailware; please let me know what you think of it so I can be sure that I am on the right track in choosing the "content" and style of my schemes. I can't improve if I don't know what I'm doing wrong!