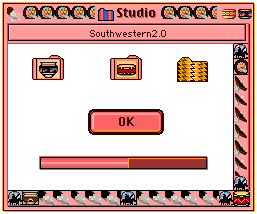 Description
This is a revised version of the author's first Kaleidoscope scheme. It was inspired by the Native American icons of Sonny Del Castillo. Thanks to him for doing such a wonderful job in designing them and for allowing their use.

The 2.0 version adds new icons (from Sonny) and resources to the schemes and polishes it up a bit. Also included is a feather cursor... drop into your extensions folder and restart.
Requirements
Kaleidoscope 1.7.3 or later
Author
Martha Royer
Status
Freeware, but one $10 payment covers all the author's schemes. Registered users will get first notice of new schemes and special schemes made just for them. The author will also alter schemes for registered users to make them smaller (such as removing the sound file) or fulfill other special alteration requests.