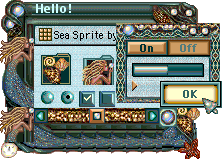 Description
Sea Sprite is a K2 scheme which was created as a companion piece to Wood Nymph, and will probably be followed by another (possibly fairy) companion scheme. It has all the K2 niceties: very detailed K2 windows, desktop, finder, background and utility patterns, a pearlized cursor, sea windowshade sound, all written in, along with custom folders and trash, custom tabs, and other additional resources. There is also a folder of scheme patterns for the desktop and an additional shell cursor. Select what you wish to use in the K2 control panel. To use the shell cursor, turn off the checkbox for the scheme cursor in the K2 panel, drop the shell cursor into the extensions folder, and restart.
Requirements
Kaleidoscope 2.0 or later
Notes
In order to see the custom trash and folders, you need to re-start your Mac unless you have OS8.
Author
Status
Shareware. All Styles color schemes are $5 for 5 schemes, $10 for 10 schemes, $20 for anything up to 30 schemes, $30 for 50 schemes, $40 for 75 schemes. Registered users get freebies and schemes that are unavailable otherwise. (See registration form.) Registered users, send your email address for freebies.