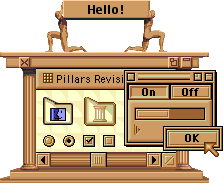 Description
Pillars Revisited was originally created and released by Erik Ekengren for K2, then withdrawn and re-released in a black and white marblized version.

This is based on the original version which was later "tweaked" by Janet Parris, who added sculpting and highlights to the original design, along with a default folder, trash, windowshade sounds, and desktop and utility patterns. A folder of desktop patterns was also added. Erik kindly insisted that Janet be placed as co-author of that version.
Requirements
Kaleidoscope 2.0 or later
Author
Janet Parris and Erik Ekengren.
Status
Pillars Revisited is whatever-you-want-to-giveware. Janet's registered users get freebies and schemes that are unavailable otherwise.