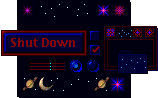 Description
The inspiration for Midnight Sky is simply stated: it is an effort to create a color scheme that gives a sense of being outdoors, far from the glare of civilization, under a star-filled night sky . It is very dark -- almost black -- with pinpoints of blue light, and a celestial body or two orbiting the interface. It will be even more effective (certainly, it will be darker) if you use the enclosed desktop pattern. It will practically disappear into the gloom if you obtain a copy of Sven Berg Ryen's Kaleidocolor, and apply it to Midnight Sky (your Finder windows will be darkest blue with light blue text).

The Midnight Sky package includes the color scheme, a desktop pattern and, unless you choose to use the "Starlite" version, a complete set of custom icons. Unlike many of my color schemes, Midnight Sky was designed with only the 256 colors of the standard 8-bit palette. I have done my best to make it look well and function properly in black and white.
Requirements
Kaleidoscope 1.5+
Author
Scott Hunter
Status
Midnight Sky is opinionware; if you have strong feelings about it, send them along via E-mail.