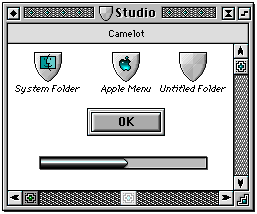 Description
Camelot is an original freeware color scheme for Kaleidoscope, the amazing Mac GUI reconfiguration utility.

Camelot has two versions, Camelot and Camelot_Lite. The _Lite version does not include the original folder and trash icons. To use these schemes, simply drop the appropriate flavor of Camelot into the Kaleidoscope Color Schemes folder inside the Extensions folder, open the Kaleidoscope control panel, and select Camelot or Camelot_Lite.
Philosophy
Kaleidoscope appears to be rapidly achieving cult status among the Mac internet community. Through the simple but brilliant idea of allowing users to get into the act, and by tossing in a combustible blend of arcanery, structure and artistic allowance, Kaleidoscope has spawned an entire cottage industry of tweakoholic scheme designers. Camelot is the result of having fallen under Kaleidoscope's addictive spell myself.

I am often amazed by the creativity and innovation of Kaleidoscope scheme designers. I use many of these new schemes, in short bursts (after all, that's part of the fun of Kaleidoscope). However, for day-in, day-out use, I always find myself returning to old favorites. Perhaps not surprisingly they tend to be variants of the Aaron scheme, such as L. Wood's Amadeus . TealEaves by Kosh is another favorite that departs from the grayscale colors, but not the basic design. Aaron variants have a built in advantage - they came first. New schemes vying for my longterm attention must break through the discomfort threshold of being 'not what I'm used to'. In addition, these new schemes have often sacrificed functionality for initial dramatic effect.

So the challenge leading to Camelot was this: could I design a scheme both novel and visually appealing, without sacrificing functionality and long-term wearability. At some level, these are perhaps mutually exclusive goals. Afterall, shouldn't a good GUI be essentially invisible, rather than look good and distract from the work at hand? A tremendous amount of time has gone into Camelot to achieve a good balance of aesthetics and function. You must judge for yourself how successful I have been.

Some design considerations (some of these have already been well articulated by L. Wood in Amadeus and his Kaleidoscope Way page):
Camelot uses a slightly darker gray than Aaron for the active window. This allows the window widgets and scroll buttons to 'shine' through that much clearer. It also allowed fading the inactive windows without washing them out.
inactive utility windows don't fade as much in deference to DragThing's utility window and MT Newswatcher's progress bar (which are in some sense active even when not selected).
normal, pressed, and ghost thumbs all retain the same shape, while still providing several visual queues as to their state. I suspect shapechanging thumbs is one of the reasons some of the more innovative schemes just don't wear well - perhaps on a subconscious level something strikes me as "wrong".
pressed scrollbars darken, but don't lose their pattern. This also seems to subconsciously help in keeping me aware of exactly where I am.
arrowed buttons move when pressed (a very natural feature first introduced, I believe, by L. Wood).
active buttons stand out from the background, asking to be pressed.
inactive buttons, checkboxes, arrows and scrollbars gracefully fade away without suddenly becoming two dimensional. Again, on some subconscious level I am discomforted by windows which are half 3D and half 2D.
etched titlebar support for greater clarity, if used with Kaleidoscope 1.5.1 or later version.
doesn't look all that bad using Smart Scroll (which is saying a lot; still I don't recommend the combination).
makes limited use of eye candy "glassies" in an understated way, for longterm wearability.
Camelot has many novel features designed for both aesthetics and function - check out the window widget icons, new arrow designs, scrollbar patterns, progress bar, changing glassy highlights on pressed and normal thumbs, checkboxes, the chalice trash icons, and new folder coat-of-arms motif.
Camelot has been designed to still look good and function well at all color levels and in black and white.
Suggested Usage
I use Espi Sans Bold 10, included with Kaleidoscope, as my system font. Camelot's silver color scheme should go well with many background choices. I thought about including a thematically appropriate desktop pattern, but could not overcome my strong preference for inert backgrounds. I have included a couple of original teal desktop patterns that I often use with Camelot. (Unlike Camelot, however, the patterns only work well with 256 or more colors.)
Requirements
Kaleidoscope - no version specified
Author
J. Gimlet
Status
Camelot is freeware. However, please do not distribute modified versions of Camelot or Camelot's icons without my express permission. This readme document should be included with all distributions. As with just about all freeware/shareware (or for that matter, commercialware), use at your own risk.