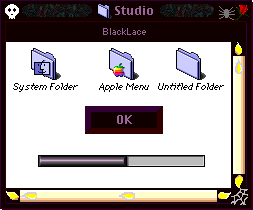 Description
Ever notice that the people in the Goth subculture have this weird fascination with ankhs and lace and stuff like that? Well, I have. Of course, I'm obsessed with all that good stuff, too.

Hence BlackLace.

Skulls, ankhs, spiderwebs, candles... your computer might as well be smoking cloves and wearing velvet!
Requirements
Kaleidoscope, no version specified.
Author
Jeni Pleskow
Status
Freeware