| | |
| --- | --- |
| | World Calendar |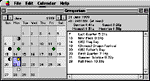 Description
World Calendar can convert between 11 different calendar systems, and displays a list of holidays from each of those calendars. Calendar systems that World Calendar can easily convert between are:
Gregorian
Julian
Coptic/Ethiopic
Islamic
Bahá'í
Mayan long count, religious and secular calendars
Hindu Solar (Old and New)
Hindu Lunar (Old and New)
Indian Civil
Persian (Iranian)
Hebrew
Chinese
In addition, World Calendar displays:
Current astronomical date (Julian Date).
Sunrise, sunset times for anywhere in the world
Moon rise, moon set times
The time of the solstices and equinoxes (to within a minute)
The time of the full moon, new moon, and the first and last quarters
Registered copies of World Calendar can also be used as a perpetual calendar capable of displaying dates from 3,000BC to 10,000AD and beyond.
Requirements
68020 or better with an FPU, or PowerPC. For System 7.1 or later. Adobe Acrobat Reader required for documentation.
Author
Status
Shareware - $10 for an indivudual license. Site and Worldwide licenses available.