| | |
| --- | --- |
| | Calendar2000 |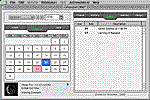 Description
A calendar to touch your sense of wonder.
Learn about calendar reform through the centuries.
Julian, Gregorian and Lunar views of each month.
Moon Phases, solstices amd equinoxes.
Drag text or HTML calendars into your other text documents.
Keep special memos and notes by month.
Powerful holiday/event definition capability that can understand complex rules such as: "First Friday before Easter"; "Last Thursday in November"; "12 days after Christmas" and calculate and display date accordingly for many centuries into the future.
Definable this-day-in-history database. Import your own lists.
Clean easy-to-use calendar that does not get in the way.
Optional Y4K compliance for the proposed calendar change for the year 4000.
Ability to password protect your calendar database. (Supports MacOS 9 Keychain)
Supports Mac OS 9 Multi-User and Network/NetBoot configurations.
Unique Free-Form Drag Drop Address Book.
Unique Free-Form Drag Drop Planner/List Manager
Plain, Mac Ice , and Brushed Metal Look.
Requirements
System 8.1 or later on a Power PC Processor (G3 or better recommended). (MacOS v9 recommended)
Author
Status
Shareware, $25 (USD)