| | |
| --- | --- |
| | Wiedermoon |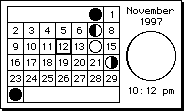 Description
Wiedermoon is a little Macintosh application that shows the phases of the moon on a small calendar. "Try clicking on things for more data". You can
Click on the big moon to look at other months and years
Click on the little moon phases for additional data on the time of the phase.
Set the time zone under the "Edit" menu.
Click and drag the edge of the window to move it around.
Version 1.1 extends valid dates from 1910-1999 to 1905-2039, and adds option to type in any offset from Greewich time instead of being restricted to main US timezones.
Requirements
Not specified.
Author
Status
"Wiedermoon is happyware: use it and be happy!"