| | |
| --- | --- |
| | Sunrise-Set |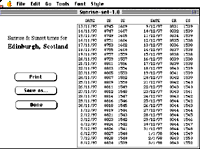 Description
This stack will calculate sunrise and sunset times, anywhere in the world,on any day from the introduction of the Gregorian calendar in 1582 A.D. onwards.
Sunrise/sunset is defines as when the upper limb (i.e. the top bit) of the sun touches the sea-level horizon when viewed from sea-level.
Requirements
HyperCard or HyperCard Player.
Author
Dave Leedham
Status
Freeware, May be freely distributed but not sold.