| | |
| --- | --- |
| | Stargazer's Delight |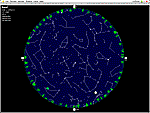 Description
Stargazer's Delight shows you:
all the stars up to magnitide 10 (over 260,000 stars)
the sky, seen from any location on earth
planets, minor planets, galaxies, star clusters etc.
all constellations and their boundaries, the phases of the moon, the apparent brightness of the planets, the length of day...
the paths of the planets, animations of the sky, great pictures of the planets etc.
animated tutorials on selected astronomical questions and much more!
Changes in version 5.0:
Stars can be displayed according to the zoom factor (that means only the bright ones will be drawn in a big field of view and the more you zoom in the more stars appear). There's more data available for each star, incl. spectral type, SAO Number and more.
Besides the huge star database there are a few small improvements like control-clicking on the stars to get information without always having to close the data window.
Various bugs and issues are fixed, among others:

the centering on certain constellations was wrong
a bug in the pop-up menus in the search star window
better display of the magnitude
some stars around the poles weren't drawn in certain situations
English and German versions available.
Author
Status
Demo - only a few locations are available until the program is registered. $20 (US), 30 Swiss Francs or DM40-.
Note
Version 5.0.1 has been released, but the archives for the application at the author's site seem to be corrupted. The patches are okay, so I've included those. Download both version 5.0 and the appropriate patch.
Application
Patches
68K Application (version 4.6)