| | |
| --- | --- |
| | MoonMenu |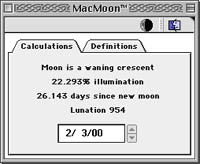 Description
MoonMenu comes in two parts:
MoonMenu Extension adds a moon in the current lunar phase to your menubar.
MoonMenu Application allows you to enter any date to see what the moon phase is, was, or will be.
The MoonMenu, when selected, reveals a textual description of the moon phase, illumination percentage, the moon's age in days, and the current lunation number.
MoonMenu is available in English, French, German, Italian and Japanese language versions.
Requirements
MacOS 8.1 or later. MoonMenu will run on 68K Macs.
Author
Status
Shareware, $12 for a single user license.