| | |
| --- | --- |
| | Moon in the Mac |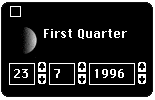 Description
Moon in the Mac is a mini-application which shows the phases of the moon for given dates. You can set a date, using the text fields at the bottom of the main 'Moon in the Mac' window, and the phase of the moon will be shown both by name and as a picture at the top of the window.
You can shrink the window so that it takes up less space by clicking on the moon icon. This way you could leave it running all the time (if you wanted to) as it takes very little memory. In fact, it can probably run in even less than the 128K it's set to use by default.
When you close the window, the application shuts down.
Author
Status
Freeware.