| | |
| --- | --- |
| | MacAstro |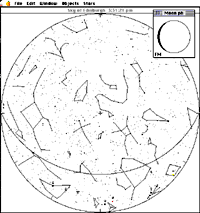 Description
MacAstro is a program for astronomy lovers to calculate the appearance of the sky at any time and any point on earth. It displays the position of the 8 major planets, the Sun, the Moon, and 2500 brightest astronomical objects (stars and Messier's objects).
These are the main features of the program :
Full Macintosh interface.
Background calculations.
Displays in color the position of the objects of the Solar System (8 planets + Sun + Moon) and displays the position of the 2500 brightest stars in the sky, according to the date and place of the observation.
Displays the constellations.
Displays the ephemeris of any of the 2510 objects:

rising/setting/culmination,
right ascension/declination,
azimuth/altitude,
visual magnitude and diameter,

and allows to save it to a text file for the planets, the Sun and the Moon.
Displays and exports a picture of the phase of the Moon.
Displays and exports a picture of Jupiter and Saturn's satellites position.
Displays the sidereal time.
"Planetarium" mode : an animation refreshes regularly the appearance of the sky (can turn in background under MultiFinder).
Editable list of most commonly used places of observation, and possibility to use the location coordinates stored in the PRAM.
Requirements
Macintosh Plus, Classic, or larger and a system 6.0 or later.
Notes
I found it necessary to increase the amount of RAM used by the program.
Author
Nicolas Mercouroff
Status
Shareware, $20 or 120FF