| | |
| --- | --- |
| | Astrocal |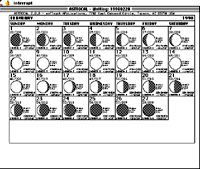 Description
ASTROCAL produces yearly astronomical calendars, for any given year, and provides the following information in on a day-by-day basis:
Day of Month
Day of Year
Days Remaining in Year
Julian Date
Lunar Aspect Graphic (for 0h U.T.)
The lunar elongation angle (measured eastward from the sun)
The position angle of the bright limb (measured eastward from celestial North to the mid-point of the bright limb)
The percentage of the lunar surface illuminated by sunlight
Right Ascension and Declination of the Sun (for 0h U.T.)
Requirements
ASTROCAL will run on any Macintosh computer, or other platform running the Macintosh Operating System, or Macintosh Application Environment. Both PowerPC and 68k versions are available. To start ASTROCAL just double click on the ASTROCAL icon.
Notes
This software was developed using APL.68000, a proprietary product of MicroAPL Ltd., which has given permission for a runtime version of APL.68000 to be included with the software. Copyright and all intellectual property rights in APL.68000 remain vested in MicroAPL Ltd. APL.68000 is a registered trademark of MicroAPL Ltd.
Author
Status
Shareware, $5. Please distribute ASTROCAL to anyone who may be interested in this product. sofTouch APpLications is pleased to serve and support all of our registered users.