| | |
| --- | --- |
| | L'Astrologue |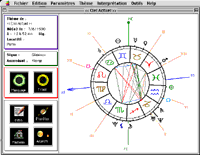 Version Française | Deutschen Version
Introduction
L'ASTROLOGUE is an astrological software, intended to compute, draw and interpret natal charts on the Macintosh.
It has been developed on Macintosh because there was a lack of such programs on this platform. Planetary and houses positions are computed with great accuracy (less than one arc minute in longitude) and the calculation routines are the result of an intricate research and were tested over a long period of time.
L'Astrologue should be of great help for amateur or professional astrologers.
Its distribution as a shareware, gives us the oppurtunity to propose it at a low fee, in comparison of what you can find in this area.
Features of L'Astrologue
L'Astrologue is easy to use, computes and draws a chart in less than half a second.
Accuracy on planets and house positions are better than one arc minute.
Tropical or Sidereal charts.
Integrated Atlas with more than 40,000 cities with time zone information, user's default city and complete management.
Cities are found by typing the first letters of their names.
Placidus or Porphyre house systems (L'Astrologue will automatically use Porphyre's house system for latitudes where Placidus is not applicable).
Mean Lunar Nodes, Lilith, and Part of Fortune.
Distribution of planets and other objects in cardinal, mutable, fire, earth, ... types.
Determination of a Ruling Planet.
Primary and Secundary aspects. User's defined orbs..
"Here & Now" chart computed for the current date, time and a user's default city.
Progressions, Solar and Lunar Returns.
10 charts can be opened or created simultaneously.
Help menu.
Charts comparison.
Composite charts in either "half-time" or "half-space".
Age of the Moon related to the current chart.
Charts supersosition and crossed aspects.
Interpretation of the planets positions in signs, houses, of the primary aspects, of the lunar nodes positions, and of the ruling planet.
Exportation of the graphic chart through the scrap.
Complete color print (7 p) of the chart (information, graphic, positions,interpretation,).
Hardware Requirements
any Mac or PowerMac;
MacOS 7, 8 or 9 system;
A monitor which could be set in 640 X 480 resolution mode at least;
2 Mb available memory.
L'Astrologue has been tested and used on several Macintosh, under MacOS 7, 8 or 9, without a problem (until now). And (of course!) L'Astrologue is Year 2000 compliant.
L'Astrologue, version 3.x is a FAT release, i.e. optimized for PowerPC computers, but can run on older Macintosh.
Author
Status
With an unregistered version of L'Astrolgue, you can only compute charts for years ending by a zero. You can acquire two types of license for L'Astrologue :
a PRIVATE-USE license for : 40 $ US - 280 FF - 43 euros. With the PRIVATE-USE license, you can establish charts for your personal use. You are not allowed to sell the charts established by L'Astrologue, or to do some business related with the use of L'Astrologue.
a PROFESSIONAL-USE license for : 260 $ US - 1800 FF - 275 euros. With this PROFESSIONAL -USE license, you are allowed to do any business that involves the use of L'Astrologue, but you are not allowed to resell the software L'Astrologue itself.