| | |
| --- | --- |
| | Reflection |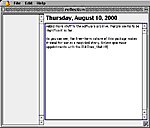 Description
Reflection is a freeware program that acts as a virtual diary or journal. It was created as an easy way to just sit down at the computer and type without having to deal with documents or navigation of any sort.
When launching Reflection a new blank entry is created for the current day. Changes are automatically saved when either quitting or viewing another day's entry. Entries are saved chronologically in the Entries folder as text documents that can be easily transferred.
Notes
I've included this in the archive because I think it'll make an excellent lightweight magickal diary for recording meditations etc.
Author
Status
Freeware.