| | |
| --- | --- |
| | Dream Temple |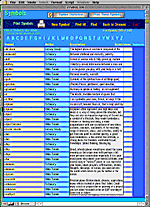 Description
Dream Temple™ v.2.0 is a dream documentation application that can assist you in organizing and reviewing your dreams. It is our hope that by simply organizing your dreams in a searchable database you will be able to reveal deeper patterns in your dream life.
Accommodates many different journaling techniques
Introduction to dreaming by noted dream author Wilda B. Tanner
Dream symbol library by Wilda B. Tanner
Interview your symbols to find their unique meaning
Create an instant web page of selected dreams in your journal
Import dream images you created in other graphics applications
Dream Links allow you to keep note for a group of dreams
Custom text formatting and spell checking
Colourful screens and user friendly interface
Personal password for security that you can change
Perform simple and complex searches on keywords and phrases
Print, import, export, or e-mail dreams to share with friends!
Guarentee: All dreams you enter are transferrable to other applications
Help system included with the journal
Personal technical support through the Internet and mail list group
Inspirational quotes from philosophers, scientists, artists, mystics etc.
Notes
The Mac version isn't ported too well - it doesn't quit in any conventional manner, for example, and the interface is lacking by our high standards. Also, to e-mail dreams to your friends requires you to compromise security by using Outlook Express as the authors haven't heard of AppleEvents.
Requirements
PowerPC, 16MB RAM, CD-ROM drive, Mac OS 7.5 or higher. At least 10MB of free space on your hard drive.
Author
Akasha Software. Windows version available from the web site.
Status
Demo. Secure online ordering available.