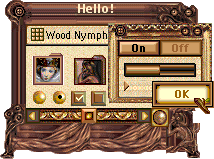 Description
Wood Nymph is a K2 scheme which was *months* in the making. I began with a Bryce image and redrew (and redrew) it. I have used several of Martha Royer's resources from Golden Frames (with her permission), as I think they were perfectly suited for Wood Nymph. I redrew them as well. Wood Nymph has all the K2 niceties: K2 windows (very detailed), desktop, finder, and utility patterns, a twig cursor, cricket windowshade sound, all written in, along with custom folders and trash, custom tabs, and other additional resources. Select which of them you wish to use in the K2 control panel.
This update (version 2.0) has deleted unecessary resources and centered text. All my work is hand-drawn.
Requirements
Kaleidoscope 2.0 or later
Notes
In order to see the custom trash and folders, you need to re-start your Mac unless you have OS8.
Author
Status
Shareware. All Styles color schemes are $5 for 5 schemes, $10 for 10 schemes, $20 for anything up to 30 schemes, $30 for 50 schemes, $40 for 75 schemes. Registered users get freebies and schemes that are unavailable otherwise. (See registration form.) Registered users, send your email address for freebies.