| | |
| --- | --- |
| | Tarot Reference |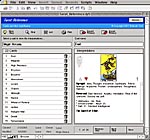 Description
The purpose of this Tarot Reference tool is to help you understand the Tarot cards and make different, and hopefully instructive, associations as you study the deck. If you don't have the Tarot Reader, you can always use this reference tool while you work with a real Tarot deck. If you do have the Tarot Reader, then you can keep both files open so you can access the reference tool while you study and review the cards that appear in a reading.
Requirements
Not specified. This archive contains a standalone Macintosh version. A cross-platform FileMaker Pro 5 version is also available.
Author
Status
Demo - many fetures disabled until registered. $15. Special price of $20 for both if purchased with the author's Tarot Reader.