| | |
| --- | --- |
| | Natalis |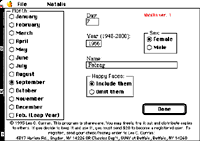 Description
With Natalis a student's birthdate can be entered according to our calendar and the program will automatically print a decorative certificate bearing the student's name and birthdate according to the Roman calendar.
When you run the program, you will see a window in which you can supply the information necessary for the certificate you will make.
Enter the month, day, and year of the student's birth, the name, and the sex. Note that February in leap year is at the end of the list of months.
You also can choose to have "happy faces" in the corners of the certificate or omit them.
Roman Calendar "knows" how many days are in the month chosen and whether the Nones and Ides come early or late in that month.
If you enter a day that exceeds the number that are actually in a chosen month, Natalis will convert it to the last day of the month. It will make similar adjustments if the year you enter is earlier than 1948 or later 2000.
When you are finished making your entries, click on the "Done" button.
Natalis prints at the lower left edge of the page the date, according to the current calendar, that you entered.
Requirements
A printer.
Author
Leo C. Curran
Status
Shareware, $20