| | |
| --- | --- |
| | CCalendar Converter |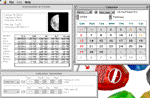 Description
CCalendar Converter is a utility for conversion between often used calendars. In this version (1.10), it supports the conversion between Gregorian, Julian, Sinic (a.k.a. Chinese, as PRC insists), ISO, Islamic, and Hebrew calendars. Many festivals are also supported so that you can easily find when is Easter, Orthodox Easter, Chinese New Year, Hanukkah, and Ramaden. You can also find the sunrise/sunset time and the moon phase in the city where you live.
V1.1 added a calendar window so that you can have an overview of the whole month. The holidays in the month are shown in a different color. By placing the cursor on the calendar cell, the holiday information will be shown in a balloon. You can also edit holiday file(s) to place holidays in your country and other important dates of your own.
V1.1 also added the ephemeris of the sun, the moon, and the nine planets. You can easily find in which zodiac sign is Venus.
Requirements
CCalendar Converter needs PowerMac or Mac. However, due to the heavy calculation of astronomical events, it might look sluggish on a 68K machine.
Author
Status
Shareware. $15 or DM 20.00 for a single user license. Site and Worldwide licenses also available.