| | |
| --- | --- |
| | Tide Stamp |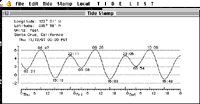 Description
Tide Stamp is a tide and current predictor. The key word here is predictor. Tide prediction algorithms cannot consider unusually strong winds, stormy weather conditions, spring runoff, or other factors which can and will affect tides. Therefore always view tidal predictions as no more than estimates of the real thing. Further though great care has been taken in the writing of this software, it may contain errors. If you use this software, YOU USE THE SOFTWARE at YOUR OWN RISK.
Requirements
System 7 is required. Tide Stamp and the 'harmonics' file must be in the same folder. The date and time must be set in the General Controls or Date and Time Control Panel, and the time zone must be set in the Map Control Panel.
Note: If your Mac has a 68k series CPU and a FPU (floating point unit) use Tide Stamp-68KFPU_Only for enhanced calculation speed, otherwise use Tide Stamp.
Notes
The 'harmonics' database used by Tide Stamp is maintained by David Flater for use with his XTide software. Current versions of XTide (Tide and Current prediction for X) and the 'harmonics' database are available at his web site.
Author
Brian C Burke
Status
This version of Tide Stamp is free. It may be distributed on any on-line service, network, bulletin board or web site provided that this Read Me accompanies it. It may not be distributed on any electronic media without the author's permission.