| | |
| --- | --- |
| | Planet C |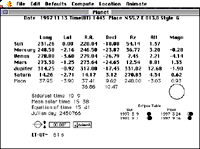 Description
PLANET is an application in which your Macintosh computes the coordinates of the planets visible to the naked eye (Mercury, Venus, Mars, Jupiter and Saturn), the sun and the moon. The coordinates are given in three different coordinate systems: the geocentric ecliptic and the equatorial and horizontal systems of the observer. Further you will see the magnitude of the planets and the phase of the moon and also sidereal time, mean solar time and the equation of time.
Finally when a solar or lunar eclipse is possible you can also investigate the eclipse from any place on earth.
Notes
This package includes two color versions of planet: PLANET C one version for machines with a math coprocessor (FPU) and another one for PPCs. The program is intended to run on a machine with color or gray scale display. The source code of the applications was originally made in THINK Pascal 4.0, then converted to CodeWarrior 9 Pascal. You should use system 7 or later.
If you run this application on a Macintosh with few colors or gray scales the application memory may be decreased to about 400 k. Running it on a computer with millions of colors requires more than 1 M. The most memory demanding operation is to have the map opened and saving it, if you encounter problems with this, the memory allocated to the application memory should increased.
Documentation is in Micorsoft Word 5.1 format.
Author
Lars Gislén
Status
Shareware, $25.00.