| | |
| --- | --- |
| | Mr. Tides |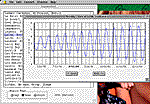 Description
Mr. Tides is an open source tide predictor based (roughly) on XTide 2.2 by Dave Flater. It uses the same harmonics files.
The Extractor program extracts out reference stations from the massive harmonics.world file. In essense it creates a new harmonics file, just with the stations you want. This loads much more quickly.
Requirements
Any PowerPC Macintosh. Written and tested with Mac OS 8.6 and OS 9.0.4 on a PowerMac G3/300.
Author
Status
Open Source under the GNU public software license.