| | |
| --- | --- |
| | MacHeliodon |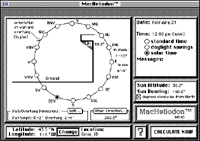 Description
MacHeliodon will quickly and easily calculate and graphically indicate, in sectional view, the shading effects for an overhang of a user's design, for any time, day, and location on earth. It will also calculate and display sun path diagrams and position tables.
MacHeliodon allows architects and building designers to evaluate many overhang designs in a matter of minutes with much more convenience and accuracy than the conventional sun path diagrams most designers now rely on. MacHeliodon has more than 50 major cities in its database and new locations can be easily added by the user.
Solar, Standard, and Daylight Savings time systems are built in. Multiple shadows at two hour intervals can be displayed for overhangs, as well as shadows cast on the ground plane by a 'gnomon' at one hour intervals. Sun charts can be generated showing sun position in the sky at one hour intervals.
Shadow length and sun position data can be generated in tabular form and saved as tab delimited text files for export to spreadsheets and word processors.
MacHeliodon is also valuable to anyone who is affected by the changing location of the sun: photographers, farmers, gardeners, solar heating engineers, lighting engineers, amateur astronomers... the list goes on.
Requirements
1.6 MB of RAM, system 6.0.4 or later and will run on anything from a Mac Plus through to a PowerMac
Author
Status
Demo version. It is not possible to change location in this version. The full version costs $40 (US). Online registration available.