| | |
| --- | --- |
| | Mac Grayliner |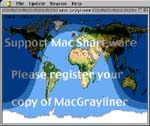 Description
Mac Grayliner displays a real-time map of the Earth, showing the areas of day and night, and the terminator between them. Studies have shown that propagation is often enhanced between points on the terminator (the so-called Grayline Effect).
You can change the size of the map by clicking in the lower right corner, and dragging the cursor. The window will automatically snap to the correct dimensions for a non-distorted map. You can also position the map anywhere on your screen. The next time you run Mac Grayliner, it will automatically size and position the map where you left it.
Every minute, Mac Grayliner will automatically update the map of the Earth. You can also force an update by selecting Update from the Update menu.
Mac Grayliner also displays information about the status of the NCDXF/IARU beacons. Select a beacon frequency from the Beacon menu. At the bottom of the map, you'll see the callsign, country, frequency, of the beacon currently on the air, and distance to that beacon. The display will update every ten seconds, as a new beacon goes on the air.
Please note that not all of the beacons are always operational.
Requirements
Mac Grayliner requires a Color Mac, running System 7.
Author
Status
Shareware, $15.