| | |
| --- | --- |
| | Luna |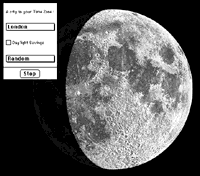 Description
Luna puts the moon on your screen, just the way it looks outside your window. Luna is accurate to within an hour. To use it, place it in your After Dark Files folder, or the equivalent folder on your machine.
Requirements
Berkeley Systems' After Dark
Author
Stephen Linhart and Jason Linhart
Status
FREEWARE - Luna is protected under international copyright conventions, and all rights are reserved. However, you are encouraged to copy and distribute this archive freely, as long as you include all of the files. You may not modify the module or this file in any way, and you may not charge money for them -- except for shipping, handling and the cost of media.
Online services and BBSs may distribute Luna while charging their normal usage fees if they abide by my other terms. CD-ROM publishers must ask for permission.