| | |
| --- | --- |
| | HourWorld |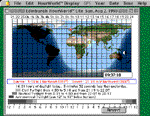 Description
What is HourWorld

TM

?
Time, here, there, and around the world.
Almanacs and planning.
Lighting from the sun and the moon.
Telephone calls at appropriate times.
Beauty and curiosity.
HourWorldTM is a unique software program that doesn't really fit into any previous category, as you'll see for yourself. Started in 1994 as the WorldClock Desk Accessory, rapidly increasing Macintosh speeds have enabled a variety of enhancements and new features not practicable until recently. We welcome your support of this ongoing project via two registration options.
What's in the package?
The accompanying software contains all the code and graphics of the full version of HourWorldTM, but not all features are enabled without registration. As downloaded without registration, the program runs as HourWorldTM Lite. It works in any Power Macintosh, and is intended to meet the needs of casual users located in or near major cities in the U.S. HourWorldTM Lite presents a small world map with sun and moon in a moving pattern of day, twilight, and night. Daylight blends into twilight and darkness with geometric accuracy. A variety of screens show times around the world, sunrise and sunset times, sun and moon calendars past and future, and even a sundial. Configuring HourWorldTM Lite is easy. Simply click on one of the clocks, scroll through the list to your city or the nearest city, and make it your home location. The HourWorldTM Lite software also contains demonstration features of the full HourWorldTM program.
Requirements
Any Power Macintosh.
Notes
The software includes cities from around the world, not just in the US as implied by the ReadMe.
Author
Status
Demo. There are several registration options explained in the documentation.