| | |
| --- | --- |
| | Astrology Treasure Hunt |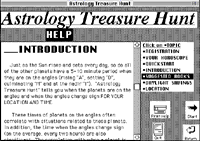 Description
Remember playing Treasure Hunt when you were younger. You used your imagination to figure out what was something "that a king uses every day". Well, instead of having to find objects from an arbitrarily drawn up list, you now have the opportunity to learn astrology by using the natural movement of the earth in relation to the planets to get a list of objects and events to find that are specific to your exact location and time.
This is a game that I use to teach astrology. Try to find events, situations, and people that correspond to the signs and planets that are listed by this stack. The listing of planets on the angles (ascendant and midheaven) are calculated by this stack for your location and time.
My astrology students enjoy this game and learn most from it when we play it a public place, such as a shopping mall, where lots of people were coming and going. My students share their observations with each other. The students who were already familiar with the RULERSHIP OF THE PLANETS AND SIGNS get the most out of the game.
You can also learn astrology from this game.
Requirements
Astrology Treasure Hunt is a stand-alone application (created with Hypercard 2.2, but does NOT need Hypercard to run).
You'll get the most out of this game if you've studied astrology for at least three months and are familiar with planets, signs, ascendant, and midheaven.
Author
Status
Shareware, $20. As a bonus for sending in your registration, you will receive a diskette with astrology shareware programs for chart calculation and character (natal) interpretation. An additional bonus of one free computer generated prediction for this year will also be sent if you include birthdata (time, date, place name).