| | |
| --- | --- |
| | Astrolomy |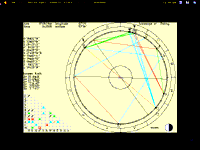 Description
Astrolomy is a typical easy to use Macintosh program combining astrology and astronomy. It has a consistent graphical interface, where numbers can be entered by use of the mouse or the keyboard.
The full version includes saving/reading of files, animated charts, progressions (lunar, solar, secondary and transit), synastries and small explanations to birth charts. Further there are ephemerides for the planets (geocentric and heliocentric), custom comets, julian date caculator, a planetarium, and more.
Requirements
There are versions for both 68K and PowerMacs, although development and support for 68K machines ceased at version 3.02. Both require at least 4Mb of RAM and System 7.1.
Author
Status
This is a demo version only, which can be expanded into the full version by entering a password. The demo version will calculate birth charts and bio-rhythms, show starmaps and show comet tracks in a starmap. The full version costs $15 or fl 30,- (Dutch) and includes all future updates.