| | |
| --- | --- |
| | Astrology |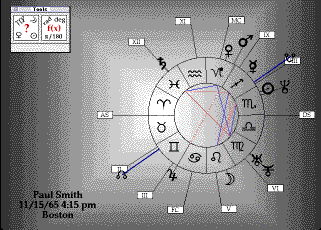 Description
Astrology... has been around for quite a long time now and has been upgraded regularly. Version 2.0 is a complete re-write about 300% faster than the previous 1.x versions.
It was first developed in French but was very quickly localized to English. Version 2.0 will allow the implementation of a lot of new features in the future.
What's New?
Speed
Multiple simultaneous charts
Improved accuracy in calculation
Much bigger chart
Choice of orbs for each type of aspects
Choice of color for each element of a chart
Improved exportation abilities
100% Mac-friendly interface
Author
Matthieu Thibault
Status
Demo, only usable for years ending in 5. Full version costs $39 with resgistration handled by Kagi. This version if free to those who registered earlier versions - details in the ReadMe.