| | |
| --- | --- |
| | Astro-Lo |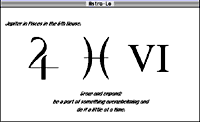 Description
Use Astro-Lo as you would an oracle, fortune teller or astral advisor. Think of Astro-Lo as a tool you can use and instantly put the ancient wisdow of Astrology to work for you, offering guidance for the future - yours as well as others.
Currently, Astro-Lo is designed to answer one kind of question - "What should I do (about, because of, with, to)...(any situation)? Your situation might involve you alone, another person... Just make sure you want to know the answer, because you are going to get it!
Astro-Lo won't immediately tell you the answer, but it will help guide you with words of action so that you may better deal with a future situation.
Author
Jean-Marc Rivas
Status
Not stated