The Trumpets of Tutankhamun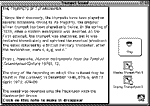 Description
This stack contains a recording of the sound of the silver trumpets of Tutankhamun and some notes on it.

The sound of the trumpet was taken from an interview with Howard Carter in about 1939. This copy of the interview was in the posession of Nicholas Reeves.

The stack includes more information and pictures of the trumpet.
Requirements
HyperCard or HyperCard Player - no version specified.
Author
Nigel Strudwick
Status
Unknown