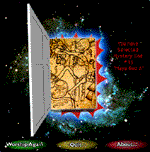 Description
After a prolonged absence, the Naked Rabbit returns, this time with its tiny paws clutched about the greatest single aid to microcomputing ever devised.

If you were lucky when you were growing up, you had the opportunity to play "Mystery Date", an only slightly challenging board game in which girls tried to find the best mates. When the door opened, they hoped the caller would be the "Dream" and not the "Dud."

"Why not," thought the rabbit, "apply these same rules to religion? After all, some gods are dreams, and some are definitely duds!" Hence, the Mystery God, an exciting application which allows you to be randomly assigned one of several fascinating deities! Led by your spiritual guide, Steve the Cat, your pulse will quicken and your nether regions engorge with blood as the door to Eternity swings open, revealing the Mystery God you have chosen!
Requirements
The Mystery God requires 256 colors, approximately 4 Mb of disk space, and about as much memory. Just double-click on the self-expanding archive to retrieve it. Keep it safe and warm on your hard disk. Then - when you need an inspiration, when life's little troubles have overcome you... WHAM! The Mystery God appears, ready to receive prayers and worship!
Notes
As usual, the Naked Rabbit appreciates responses of any kind. In addition to Mystery God, a number of other fine products for home use are available. Software such as this, Audio Casettes, Magazines, and unusual products of indeterminate origin can be obtained at little expense and much enjoyment.
Author
Naked Rabbit
Status
You can consider this product ShareWare. When you laugh at it, think kindly of your Nude Friend and send off at least $5. After all, this is exactly the kind of madness you want to encourage. If you haven't the cash (and most of us don't) then send ME something incredible.