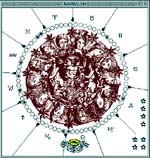 Description
The cabala, a mystical interpretation of Jewish lore, is also a matrix that represents forces of nature and spirit. Brian E. Zenk's HyperCard database lets you discover the elegant relationships of cabala with other systems.
keywords: HyperCard, tarot, sefiroth, cabala, kabbala, kabbalah, cabalism, angel, archangel, elemental pentagram, heptagram, planet musical chords; zodiac, Hebrew divine names, letters of fire, wheel of Pacal Voltan, Egyptian hieroglyphics, annuit coeptis, novus ordo seclorum, Fylfot cross.
Requirements
HyperCard or HyperCard Player - "the most current hypercard player works very well".
Author
Status
"Freeware/Loveware"