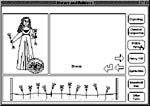 Description
This stack contains information about 24 herbs: general description, cultivation, folklore and a variety of uses, including medicinal, cosmetic and culinary. This is an abbreviated version if a yet unfinished stack containing 100 herbs. The 24 herb stack you have downloaded, however, only lacks a section on dyes, a complete section on cosmetic uses, and recipes which I have removed so as not to violate copyrights - and, of course, the remaining 76 herbs. All illustrations are my own.
Requirements
HyperCard or HyperCard Player - no version specified.
Author
LindaBW@aol.com
Status
"If you like the stack, please let me know. I need the encouragement to complete this project."