Cult Leader Success Secrets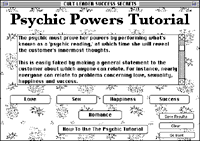 Description
Have you ever dreamed of being worshipped and adored?

Do you have the courage and brashness of character to lead an army of human sheep in a religion of your own making and earn thousands, perhaps millions of dollars? Would it delight you to be worshipped by a bevy of devotees who would die for you, their messiah?

There's only one way to find out and it's right here in Cult Leader Success Secrets.

Check out this HyperCard stack right now! Find out how to dominate others and make big bucks with the foolproof fortune-telling Psychic Tutorial.

Take aim at Trust, Fairness, Charity and Truth and shoot them dead with the Goodness Killer.

Play the Cult Quiz and find out whether you're destined to grovel through life as a lowly Cult Follower or bark orders from your throne as a prosperous Cult Leader.

And uncover what happens when an imaginative young woman named Delora sets out to seduce the world and succeeds beyond her wildest dreams!

If you hunger for games, excitement, weirdness, mind control and perverse tales of twisted sexual exploitation, you'll find your breakfast, lunch and dinner in Cult Leader Success Secrets.

It's all here and more. Don't wait. Grab this one before the censors suppress it and religious leaders assassinate its author for divulging their most closely guarded brainwashing secrets. Time might be running out!
Requirements
HyperCard or HyperCard Player.
Author
John Freemyer
Status
Cult Leader Success Secrets is shareware. With only one exception, it may be freely distributed everywhere as long as no changes of any kind are made to the original.

The only exception is that it cannot be distributed on CD-ROM without prior written consent.

If you have appreciated Delora Kind's work, please send $5 (US) donation. The author will receive 100% of your non-tax-deductible donation.

Kind donors will be registered to receive info about the release of new projects produced by Ms. Kind and other victims of injustice shackled behind prison and asylum walls.