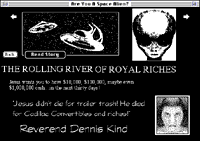 Description
Are you a space alien trapped in a human body?

Find out today with the interactive "Space Alien Evaluator" you'll find on this one-of-a-kind HyperCard stack.

After you know for sure, you can involve yourself in the most unusual space alien story ever told.

Through the magic of multimedia text and graphics, you'll take part in the newsworthy adventures of an earth human, Lester Fontaine, as he travels the twisted path from mysterious infancy to bizarre adulthood.

You'll scream with terror and laughter as Lester discovers his true space alien identity, changes his name to Vox Lem, begins dressing like an ET, and becomes a world leader in the UFO cult underground.

You'll be perplexed and delighted by the fantastic, fully-functional, state-of-the-art demonstration model of Vox Lem's "Neo-Frequency Radio Telescope." This fictive instrument will permit your Macintosh to intercept extraordinarily unintelligible radio messages transmitted by creatures in distant galaxies...and from demons in Hell.

If you're looking for freakish thrills and shuddering laughter, look no further. Open this stack now. This first step is your most important one on the path toward a lifetime of unrestricted weirdness.
Requirements
HyperCard or HyperCard Player.
Author
John Freemyer
Status
Are You A Space Alien? is shareware. With only one exception, it may be freely distributed everywhere as long as no changes of any kind are made to the original.

The only exception is that it cannot be distributed on CD-ROM without prior written consent.

If you have appreciated Vox Lem's work, please send $5 (US) donation. The author will receive 100% of your non-tax-deductible donation.

Kind donors will be registered to receive info about the release of new projects produced by Vox Lem and other victims of injustice shackled behind prison and asylum walls.