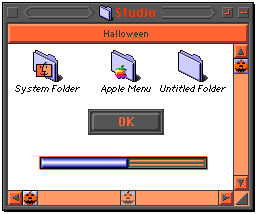 Description
This scheme gives an orange active window with black text and black inactive windows with orange text. A desktop pattern is also supplied.

Some folders are included. The trash is black cauldron kindly supplied by a witch.

The vertical and the horizontal scroll bars are orange and turn to black when pressed.

The normal vertical scroll thumb is a black coffin that open when pressed. The vertical ghost thumb is Dracula himself!

The normal horizontal scroll thumb is a haunted house with windows and a door that let green light appear when pressed. The horizontal ghost thumb is ... A ghost!...
Requirements
Kaleidoscope. The scheme has been tested with Kaleidoscope 1.7.2 on a Macinstosh running System 8.
Author
Marc Fournier
Status
Freeware.