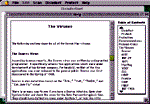 Description
Disinfectant recognizes all Macintosh system viruses known as of 1997. It also recognizes all the known variations and clones of these viruses. Furthermore, Disinfectant also recognizes many possible unknown variations and clones. It will both detect the viruses and, when possible, repair files which have been infected by the viruses.

Disinfectant will not recognize all possible viruses: only the ones it has been configured and programmed to recognize. If a new virus or strain appears, we will have to modify the program to recognize it, and you will have to get a new copy of the program.

Disinfectant does not recognize application-specific scripting or macro language viruses. These include the "Dukakis," "Three Tunes," and "MerryXMas" HyperCard viruses and the many cross-platform Microsoft Word 6 and Excel 5 macro viruses.

Disinfectant also includes a virus protection extension (INIT). When properly installed, the Disinfectant INIT will protect an uninfected system against infection by any of the known Mac system viruses.
Requirements
System 6.0 or later.
Notes
Disinfectant is no longer being developed, but the help file includes extensive information about viruses which is still extrememly useful. For up-to-date virus protection, try Agax.
Author
John Norstad at Northwestern University.
Status
Freeware