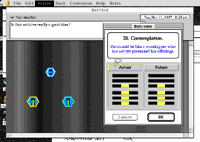 Description
The I Ching Connexion is an ever-changing but always consistently interlocking graphic representation of the way the 64 hexagrams interrelate. As such it is the key to widen and deepen the interpretation of the outcome of a divination.

It features the translation James Legge made (published in 1882, England) of the Imperial Edition of the I (published in 1715, China). This alone makes the program useful for anyone interested in the I Ching.

Besides that it adds two radical new views to the ancient Book of Changes: the Connexion and the Mediator.

It also features an I Ching clock, a presentation of the link between the I Ching and astrology. And it allows you to calculate your natal hexagram.
Requirements
The I Ching Connexion requires a Macintosh with System 7.0 or later, 32-bit Color Quickdraw and at least 256 colours or grays. It works in grayscale, but the program is designed for colour!

The program takes about 2.1 MB on your hard disk and needs 1.4 MB free RAM to run.

It is optimised for both PowerPC and 680x0 Macs (FAT application).

The external hyperlinks will only work when Internet Config v.1.1 (or better) is installed and properly configured, but the rest of program will operate perfectly without it.

Starting from Mac OS 8.5 the Internet Config utility is part of the system software. For earlier systems you can download it from the Info-Mac and UMich (and their mirror) sites.

If you already have version 2.3, 2.3.1 or 2.3.2 you only need the smaller updater program
Author
MindSports. The idea, text compilation, all texts (except the "Programmer's Intro") and all artwork is from the head and hands of Christian Freeling. The program is written by Ed van Zon, with a little help from the programming community on Internet.
Status
This software is distributed as US$20 shareware: if you like it please register. With unregistered versions of the program you will not be able to save or print I Ching Connexion documents.

Please note that 50% of the contributions received will be donated to UNICEF, the United Nations Children's Emergency Fund.

Registrations are handled by Kagi Software, and made easy using the "Register " program. If you're unfamiliar with that, please read the accompanying "How to Register " document.