| | |
| --- | --- |
| | Magic Fortune Teller |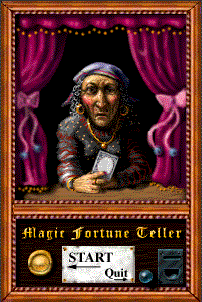 Description
The MAGIC FORTUNE TELLER has all the answers for you! Just a click on the start button and the Fortune Teller speaks one of up to 16,807 unique fortunes at random as well as printing them out for you to read or copy.
Requirements
"You need a Macintosh running system 7 or higher and Color Quickdraw. Its size is 525k and needs about 2 MB of RAM to run."
Author
Status
" It's shareware if you feel inclined to send me a buck or two."