| | |
| --- | --- |
| | MacPredictions |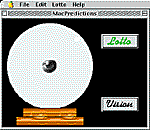 Description
This is MacPredictions. It succeeds Crystal Ball versions 1-3 and Magic Clear Ball 1.0. With all new code and new interface and theme, MacPredictions is a necessary addition to your software library!
MacPredictions a general purpose fortune telling utility. Just ask it a question and MacPredictions will respond with the answer! Or, enter the Lotto area and answer the requested information and it will tell you your lucky numbers!
Features:
Color
Animation
Sounds
150 visions (increased by 100!)
Lotto!
Re-done dialog on changing visions
Faster
Hides window in background
Works cooler in B&W, too!
Requirements
System 7.0.0 or higher for 68020 or better Macs.
16 colors or more for color.
512K memory. (Note: actually needs about twice that)
Author
Neil Schulman
Status
Not stated.